The Story of Director's Viewfinders


In the beginning, capturing the vision that directors have in their heads and communicating that efficiently to the cameraman, the fledgling movie director used his hands and a good deal of imagination to frame
the shots. As time progressed and technology developed, he would "borrow" the
viewfinder located on the side of the early motion picture camera. Later, a version
of the famed Mitchell camera viewfinder was used.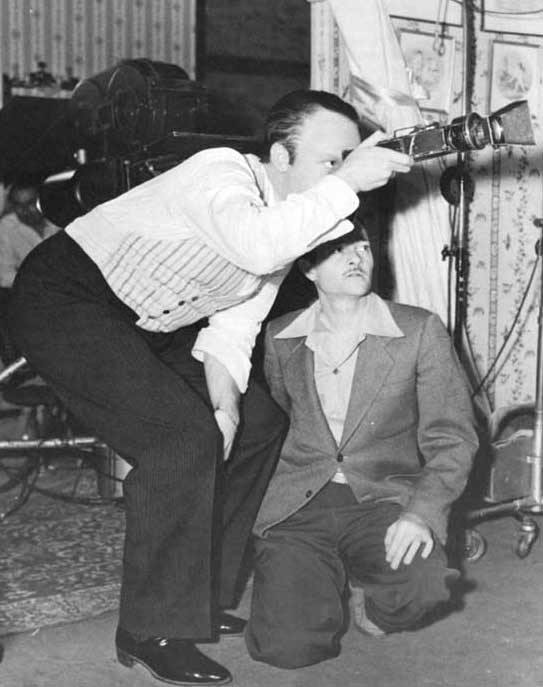 Orson Wells, Director and Gregg Toland, Cinematographer, line up a camera angle using a
Mitchell viewfinder on the set of "Citizen Kane" in 1940.
click to enlarge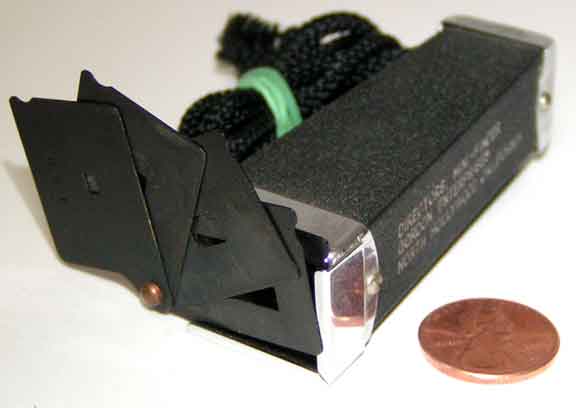 An early Alan Gordon Enterprise Mini-Viewfinder
click to enlarge

Eventually, directors and cinematographers with a sufficient amount of clout at the studios asked studio machine shops to make an optical device or viewfinder that would come close to simulating set-ups as seen by the camera lens.

Armed with these early viewfinders, they used cut-out mattes to represent the focal lengths of various lenses. The studio machine shops even developed a zooming device for use with the early viewfinders. Several versions of directors viewfinders were developed during this time.

Just after World War II in1946, Tewe, a German optical company, developed a small viewfinder which could be hung around the neck. It was soon being used and worn by directors and D.P.'s throughout the motion picture industry around the world.

Tewe Model 3-B circa 1970

With the introduction in the 1960's of wide angle prime lenses and the 25-250mm Angenieux zoom, the Model 3B could not be used to accurately simulate the new10:1 zoom ratio.

In 1975, Alan Gordon Enterprises in Hollywood, California started the development of what would become the 10:1

Mark IV Directors Viewfinder.

The Mark IV was introduced at the S.M.P.T.E. conference and trade show in 1979. This was the beginning of the modern day Director's Viewfinder.

Subsequent updated models have been the Mark V, introduced in 1991 and the current Mark Vb model in 2005.



In addition to its 10:1 zoom range, the Mark IV featured windows through which the director could easily see the lens focal length he was considering. These windows represented 16, 35 & 35 anemographic formats, and gave the cinematographer instant information about lens focal length and scene framing.

Mark IV evolved into Mark V Director's Viewfinder in 1987. With the Mark V, Alan Gordon Enterprises introduced an enhanced 12:1 zoom range, a wider angle capability, and two additional windows covering Super 16, 1/2" & 2/3" video formats.
---
Award Winning Director's Viewfinder
Today, more than 15,000 Mark IV, V and Vb Director's Viewfinders are in use by directors,
cinematographers, videographers and location scouts throughout the world.
The contribution of Grant Loucks to the art of cinematography has been recognized by both the
Academy of Motion Picture Arts & Sciences and the Television Academy
of Arts & Sciences with awards for technical achievement in development of
the
Director's Viewfinder.
Academy of Television Arts & Science
Prime Time Emmy
Engineering Award

Academy of Motion Picture Arts & Sciences
Technical Achievement Award
---
Directors & Cinematographers Use Director's Viewfinder
To Confirm the Visual Sense
---
Introducing the New
MARK Vb DIRECTOR'S VIEWFINDER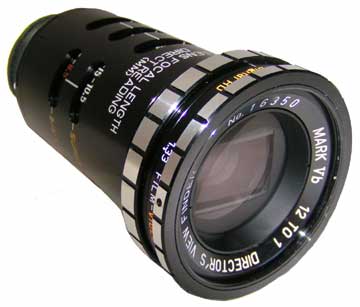 click to enlarge
The Mark Vb Director's Viewfinder represents the industry's state-of-the-art. It precisely defines choice of lenses, angles and coverage in a wide variety of formats for both film and video.

The Mark Vb enables film profesisonals to communicate their visions to each other instantly and with complete accuracy, allowing the time saved to be used in the art of filmmaking.

With a 12:1 zoom ratio, the Mark Vb Director's Viewfinder addresses all framing situations, making it an essential tool for today's professional filmmaker.

Setting up shots using the 16mm and 35mm direct-reading windows provides a wide range of film and video formats including 2/3", and Super 16.

The aspect ratio ring is calibrated for film and video ratios:

• 1.33:1
• 4x3
• 16 x 9
• 1.85:1"
• 2.40:1
• 2/3" video
• 16mm
• Super 16
• 35mm
• 35 anamorphic

Smooth zooming from wide angle to telephoto.
Focal lengths are viewed in windows located on the barrel of the viewfinder.
The zoom range for the various formats is as follows:

• 16mm Film: 8.5-100mm
• Super 16 Fiim: 10.5-125mm
• 35mm Film: 18-200mm
• 35mm Anemographic Film: 35-420mm
• 2/3" Video: 8.5-75mm
Adjustable Aspect Ratio Ring


The viewfinder may be adjusted to the aspect ratio that is appropriate for your film or video application.

The standard theatrical 35mm, 16mm and video aspect ratio is 1:33:1. Other ratios calibrated on this ring are: 1.85:1, a Montana wide screen ratio and 2.40:1, anamorphic wide screen, also known as Panavision or Cinemascope.

A setting is also provided for HD video at a ratio of 16x9.
Six glass elements produce the sharpest image possible.
Color Coding
Film sizes and video formats are color-coded for quick reading.
Adjustable Focusing Ring & Rubber Eyecup
The eyepiece focusing ring can be adjusted to sharpen the image at any given setting, much like the viewfinder adjustment on the camera.

The collapsible rubber eyecup prevents you from scratching your glasses.
Weight
14.5 oz

0.4 kg

Length
4 5/16"

125mm

Front Lens Diameter
2 1/4"

58mm

Six Optical Coated Glass Elements
Black, anodized exterior finish with chrome trim
Belt holster case
click to enlarge

Protect your investment!
Belt Holster Case comes complete with belt loop and a velcro fastener flap.
Black, heavy-duty, hand-made material with padding.

Designed especially for the Mark Vb Director's Viewfinder, the Wide Angle Lens attachment
allows coverage as wide as10mm for 35mm film.
It produces a similar effect on other film sizes and video formats.
Comes with heavy duty nylon pouch.
| | |
| --- | --- |
| Mark Vb Director's Viewfinder with Protective Lens Cap | $ 725.00 |
| Wide Angle Attachment | $ 125.00 |
| Belt Holster Case | $ 29.95 |
| Replacement Lens Cap | $ 6.99 |
| Replacement Lens Cap | $ 5.50 |
To order the Mark Vb Director's Viewfinder, contact your nearest Mark Vb Dealer or send e-mail to: [email protected]. You can also telephone (800) 825-MOVI, or fax (323) 871-2193.
The mailing address is 5625 Melrose Avenue, Hollywood, California 90038 USA.

---

---
NOTE!
"I really could use a viewfinder but I don't have the cash right now .."
Contact us anyway! we often have used finders
for sale at reduced prices.
---
SERVICE & REPAIR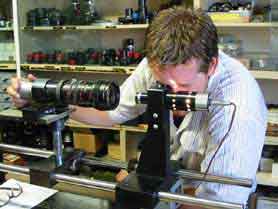 Our factory trained technicians are happy to estimate costs for any service or repair to your viewfinder or other production equipment. Most Mark IV, V and Vb Director's Viewfinders can be checked, cleaned and most repairs made in one hour or less. Hourly rates are $85.00 per hour plus parts.

Send your viewfinder to our Hollywood Service Department, Alan Gordon Enterprises, Inc., 5625 Melrose Avenue, Hollywood, California 90038 U.S.A.

All shipments should be properly packaged, be covered with sufficient insurance, and shipped prepaid.

All return shipments will be sent F.O.B. Hollywood, CA
Please email us with any questions you may have: Service at [email protected]
Telephone: (800) 825-MOVI
Fax: (323) 871-2193.
Mailing address:
Directors Viewfinder, 5625 Melrose Avenue, Hollywood, California 90038, USA.

directorsviewfinders.com is a division of
Alan Gordon Enterprises, Inc.

For all your professional motion picture
or video production needs visit us at
---
U.S.A.
ASC Storre (On-line)
American Society of Cinematographers
Visit their store

Mole-Richardson
937 N. Sycamore Avenue
Hollywood CA 90038
323 851 0111


[email protected]



Adolph Gasser, Inc.
181 2nd Street
San Francisco CA 94105-3894
415 495 3852


[email protected]




Oppenheimer Camera
666 S. Plummer Street
Seattle WA 98134
206 467 8666


[email protected]

Barbizon Electric
456 W. 55th Street
New York NY 10019
212 586 1620


[email protected]




Panavision - New York
540 W. 36th Street
New York NY 10018
212 606 0700


[email protected]

Birns & Sawyer
1026 N. Highland Avenue
Hollywood CA 90068
323 466 8211


[email protected]




Panavision (Hollywood)
6735 Selma Avenue
Hollywood CA 90038
323 464 3800


[email protected]




B & H Photo
420 9th ave
New York City, NY 10001
212-239-7500


SMS Productions
1229 N. Branch st. Suite 218
Chicago, IL 60622
312 440 8963


[email protected]



Filmtools
1400 West Burbank Blvd.
Burbank CA 91506


[email protected]

Tools for Stagecraft
713 Quail View Court
Oak Park, Ca 91377
Tel: (818) 707-2656
Fax: (818) 808-6657
email:

[email protected]



Miami Film Connection
6700 N.W. 72 Avenue
Miami FL 33161


[email protected]

Visual Products
790 Shiloh Avenue
Wellington OH 44090
440 647 4999


[email protected]




ARGENTINA

Cine Center S.R.L.
Lavalle 1925/27
(1051) Buenos Aires
1 371 6963


AUSTRALIA
John Barry Group PTY., Ltd.,
1 Machlachan Avenue
Artarmon, N.S.W. 2064 610 439 2375


[email protected]




Panavision Australia
1 McLachlan Avenue NSW
Sidney 2064
61 2 9436 1844
Lemac
2 Griffiths St.
Richmond Vic 3121
9429 8588



BELGIUM

Cineshop Brussels
Gen. Wahislaan 16F
1030 Brussels
Tel: +32 (2) 7021610
Fax: +32 (2) 7021608
Contact: Mr. J. Frooninckx



CANADA

Cinequip White Inc.
1040 Islington Avenue
Toronto, Ontario M8Z 6A4
416 467 7700


[email protected]




Leo's Camera Supply
1055 Granville Street
Vancouver B.C. V6Z 1L4
604 685 5331


[email protected]

Image Gear
18 Banigan Drive
Toronto, Ontario M4H 1E9
415 923 7432


[email protected]





DENMARK

Bico Professional A/S.
Rentemestervej 2
DK 2400 Copenhagen NV
+45 3584 0295
[email protected]



ENGLAND

ARRI MEDIA
3 HighBridge, Oxford Road
Uxbridge, Middlesex, UB8 1LX
Tel: +44 (0) 1895 457100


[email protected]




Panavision (UK)
Bristol Road
Greenford, Middlesex UB6 0NN
0181.902.8835


[email protected]

FRANCE

Bogard S.A.
9-11. rue Charles Lecocq
75015 Paris
1 53 68 16 35

Panavision ALGA
35 Rue Pleyel
93200 Saint-Denis
France
1 48 13 25 50


GERMANY

Dedo Weigert Film, GmbH
Karl Weinmair Str., 10
D-8000 Munchen 40
089 356 1601


[email protected]





HONG KONG

Salon Films
Unit C, 1st. Floor
Freder Center 68 Sung Wong Toi Road
Kowloon City
852 2746 3123


[email protected]





JAPAN

Anami Kaigai K.K.
Sansei Bldg. 2F, 6-18 Chuo 4-chome
Nakano-ku, Tokyo 164-0011, Japan
Tel: 81-3-3384-1860
Fax: 81-3-3384-1867
[email protected]



ITALY

Cartoni SRL
Via Guiseppe Mirri 13
00159 Roma
396 438 2002


[email protected]




The Movie Factory SRL
00173 Roma (RM)
Via Tuscolana 1055
06 721 6912


[email protected]

KOREA

Kodak Korea
7F Yungang Blad 270
Yunji Dong Chongro Ku
Seoul
822 708 5428
Sama Electronics Corporation
1Fl, 1630-5
Seocho-Dong, Seocho-Gu
Seoul 137-070
Korea
822 3472 0565

Green Trading Co.
#864 Bangbae 4 Dong
Seochu-Ku 137-138
+82 2 535 6100



MALAYSIA

Film Equipment Gallery
12 Jalan Tago11
TamanPerindusyrian Tago
Sri Damansara
52200 Kuala Lampur
Malaysia
+60 3 6275 2545


[email protected]




Salon Films
Unit C, 1st. Floor
Freder Center 68 Sung Wong Toi Road
Kowloon City
852 2746 3123


[email protected]

RUSSIA

SINTEX Cinema and Television
Ugreshskaya Street 14, Office 410
Moscow, Russia 115088
TEL: 7 495 679 81 71
email:

[email protected]


product viewed at:: www.sintex.ru


SINGAPORE

Cine Equipment
10C Jalan Ampas # 08-02
Ho Seng Lee Flatted Warehouse
Singapore 329513
065 252 5089


[email protected]




H. Warta PTE Ltd.
Blk 4012 Ang Mo Kio Ave 10
#06-12 Techplace 1
Singapore 569628
Tel.: 65 6 734 1884
Fax: 65 6 456 1183


[email protected]




SOUTH AFRICA

The Camera Platform
15 Granite Road
Witkoppen
Sandton 2068
South Africa
Tel: +27 11 705 2601
Fax: +27 11 705 2602
[email protected]



SPAIN

Grau Luminotecnia
Gran Via Corts C atalanes 401
08015 Barcelona
00343 325 7611


[email protected]




Ceproma, S.A.
C/ Arturo Soria, 106. Chalet 3
28027 Madrid
0034 914086012


[email protected]

SWEDEN

Hofmann Teknik AB
Askims Verkstadsvag 11
Askim, Sweden
S-43634
46 311 92020


OYFF Film Fotogra Ferna A.B.
Aleksis Kiven Katu 17
Askim 543634
4 631 19202
Kameraten A.B.
Midskogsgrand 13
115 43 Stockholm
46 708 220602